The second largest Maltese island, Gozo is located in the Mediterranean sea just off the coast of Sicily. Although the famous island of Malta is just 5km away, Gozo has retained its rural and authentic charm and is far less known, and visited.
Gozo is one of the oldest inhabited places on earth and is a popular destination for film producers to create their blockbuster Hollywood movies. Known for its rugged coastline, unspoilt natural beauty, and its charming untouched Mediterranean way of life – it's a true hidden gem.
From fascinating ancient churches, charming picturesque towns, and so much stunning coastline – there are plenty of things to do in Gozo.
One of the best ways to see the island's beauty is to see it from the water. Kayaking is a great way to explore hidden coves, paddle into magnificent caves, and enjoy Gozo's clear, warm waters.
Why You Should Kayak in Gozo
Kayaking in Gozo is one of the best ways to explore the island fully. You can access secluded caves, rocky coves, and hidden beaches on a kayak.
Comino island, located between Malta and Gozo, can be explored via kayak for a unique experience.
It's a great way to see a different, unique perspective of the island. You can marvel at Gozo's beautiful, rugged coastline in a kayak, and take some fantastic photographs.
Holidays can be an indulgent time—lots of new food, mouth-watering cocktails, and (for some) lots of lazing around. Enjoy an adventure and some physical activity with a Gozo kayaking trip – perfect for working up an appetite for some delicious Maltese dishes!
Kayaking Tours in Gozo And How It Works
So you've decided to try out kayaking in Gozo. The next step is to choose a tour provider for your Gozo and Comino kayaking adventure. Here at Ritual Dive, we got the best Kayak tour guides for a fabulous day on the mediterranean sea. Our Kayak tour guides have been around for many years, have a wealth of knowledge about Gozo and Comino coastline, and our tours are the original Gozo kayaking tours. 
We offer a number of different tours for you to choose from. Here is an overview of the tours they have available:
Half-Day Kayaking Tour (Morning)
Start time is 9:45 am
Duration – around 3 hours
Customers must make their own way to the tour starting point
The tour will usually start at Hondoq Bay which is on Gozo's South Coast
Get to grips with how to use a kayak (if you have never kayaked before) in the calm waters here
You will cross the channel over to the beautiful Comino island if the weather is good
Other tour routes include exploring the North Coast of Gozo or Dwejra's stunning inland sea 
Half-Day Kayaking Tour (Afternoon)
Start time is 2 pm
Duration – around 3 hours
Customers must make their own way to the tour starting point
Similar route to the morning tour – start in Hondoq Bay
Practice your paddling skills in the calm waters of the bay
Paddle to Comino island if the weather conditions are good 
Full-Day Kayak Gozo Tour
Start time is 10:30 am 
Duration – around 6 hours
Customers must make their own way to the tour starting point
Lunch is provided and included in the cost of the tour 
Lunch break, swim and snorkel stops are included on the full-day tour (please bring your own snorkel as COVID rules permit the hire of snorkels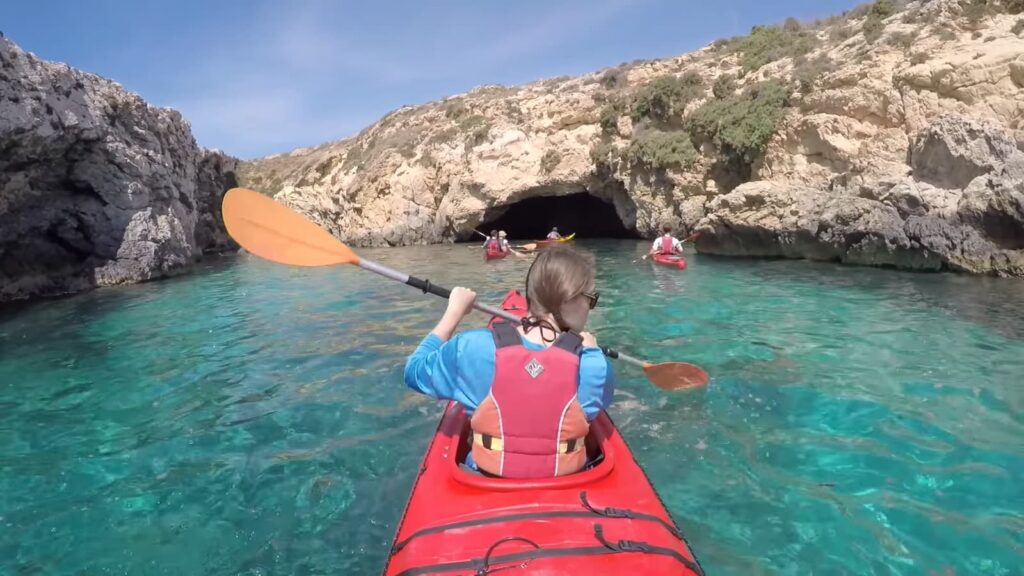 Kayaking Holidays and Courses
If you are a beginner or looking to brush up on your kayaking skills, Gozo Adventures offer kayaking courses enabling you to learn the skills and knowledge needed to kayak safely on the sea. The courses are certified by the British Canoe Union (BCU).
Are you an experienced kayaker and want to take the next step with sea kayaking? Then how about booking a kayaking holiday in Gozo and Malta? Gozo Adventures offer multi-day kayaking holidays, with multiple launch points and the option to combine kayaking with some of the additional activities they offer such as climbing, biking, and abseiling.
Essential Kayaking Information for Gozo Kayaking Adventures
Half-day and full-day tours are suitable for all levels – experienced guides will teach you how to paddle safely
Minimum age is 8 years and over for the family tour. Under 14s must be in a double kayak with a responsible adult
Items to bring – plenty of drinking water, swim shoes, sun cream, a long-sleeved shirt (for the full-day tour) and a sun hat.
Consider bringing a waterproof camera, or a waterproof case for your mobile device
Kayak route is weather dependent – no route is guaranteed and the guides will choose the safest route for the weather conditions that day
Other Popular Spots To Kayak in Gozo
As well as the spots mentioned in the Gozo Adventures tours, there are some other popular places to kayak in Gozo and Comino:
Xlendi Bay – a popular spot for swimming and snorkelling, there is a small sandy beach here, rocks to explore, and plenty of restaurants and places to eat
Qbajjar Bay and Xwejni Bay – two shallow bays with small, pebbly beaches perfect for swimming and snorkelling. There are a couple of bars and restaurants here, as well as local fisher boats
Santa Maria Bay Comino – located just a short walk away from the popular Blue Lagoon, this quiet beach offers shallow, clear waters to swim, snorkel, and kayak
Mgarr ix xini – this beautiful, quiet bay has a small pebbly beach and is perfect for swimming, snorkelling, and kayaking
Top Tips for Planning a Kayaking Trip in Gozo
To get the most out of your kayaking trip in Gozo, follow these top tips to ensure a successful and enjoyable time:
The best time of year to visit Gozo and experience the best kayaking trip is in the summer months, from May to November. You'll get the most amount of sunshine and calm weather conditions
If you are visiting during the peak summer months of July and August, then make sure you bring appropriate clothing, sun cream, and plenty of water – it can get hot!
Budding photographers should bring a waterproof camera case or an action camera that is waterproof – perfect for getting those shots
A small dry bag is always handy to store personal belongings securely
Guided Kayaking in Gozo
Taking a guided kayaking tour is one of the best activities you can do as a family, or with your group of friends, during your trip to Gozo. It's a fantastic way to see the island from the crystal clear warm water, experiencing a unique and fascinating perspective of Gozo, and it's a fabulous, fun activity that everyone will enjoy and remember! Create unforgettable memories in gozo.. Contact us to book your Kayak tour