Beneath the pristine waters of Malta lies a submerged world full of wonder. With its crystal-clear waters, captivating marine life, and historic underwater landmarks, Malta offers a unique diving experience that leaves everyone spellbound. As an aspiring diver or seasoned expert, Malta is your gateway to exploring the mysterious depths of the Mediterranean.
Varieties of Diving Adventures in Malta
Malta offers a diverse range of diving experiences that cater to every enthusiast's whim and fancy:
Boat Diving: Experience the thrill of diving from a boat into the vast blue. Boat dives give you access to sites that are otherwise unreachable. Descend into deep underwater caves or explore wreck sites that tell tales of bygone eras.
Shore Diving: The beauty of Malta is that many of its diving sites are easily accessible from the shore. Whether you're diving off rocky ledges or sandy beaches, the underwater world awaits just a few fin kicks away.
Daylight Adventures: Witness the magic of the Mediterranean's marine life during the day. From colorful corals, and schools of fish, to fascinating creatures like octopus and moray eels, the day offers a vibrant panorama of life below.
Night Diving: As the sun sets, a whole new world emerges. Diving at night allows you to witness nocturnal creatures, bioluminescent organisms, and an entirely different ambiance of the underwater world.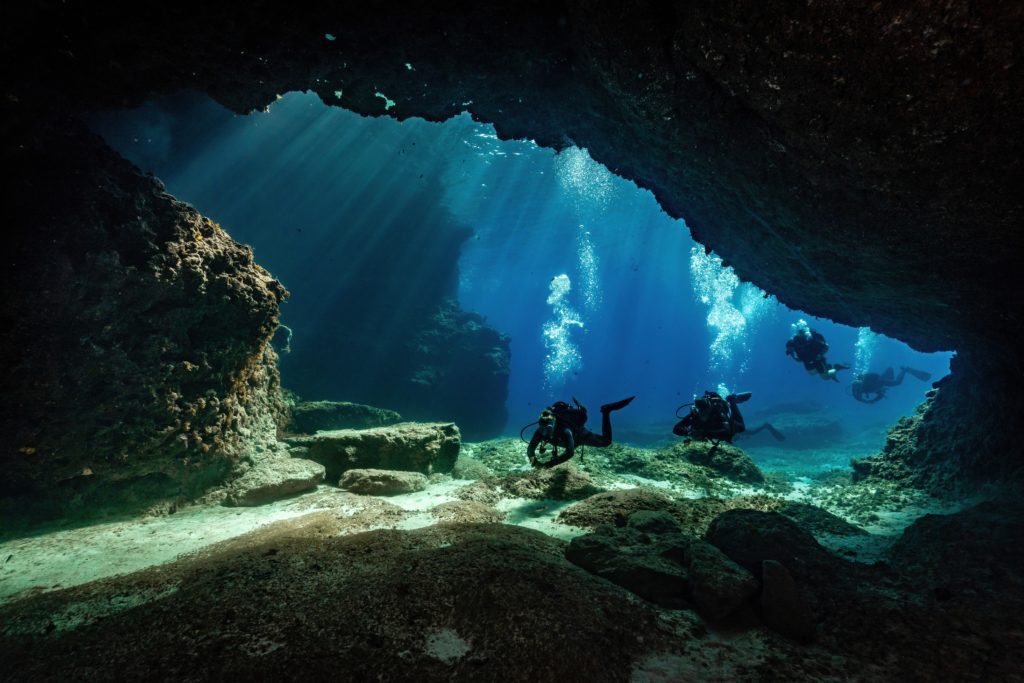 When to Dive in Malta: Diving Seasons
While Malta promises a fulfilling diving experience year-round, certain seasons have their own unique offerings:
Peak Seasons (June to September): These months see warm waters, with temperatures hovering around 25-28°C, making it perfect for leisurely dives. Visibility is at its best during these months, often exceeding 30 meters.
Winter's Season (December to February): Winter diving is an underrated gem. Water temperatures drop to about 15°C, but this coolness brings clearer waters and new marine life. Another advantage of winter diving in Malta is the tranquility. With fewer tourists around, dive sites are less crowded, offering a more serene and personal experience.
Malta's Must-Visit Dive Sites
The Blue Hole, Gozo: A natural rock formation leading to a large archway below sea level, the Blue Hole is one of Malta's most iconic dive sites. Dive through the hole and be greeted by a plethora of marine life and stunning underwater topography.
The Um El Faroud Wreck: A 10,000-ton tanker ship that was purposely sunk to create an artificial reef, this dive site in Wied iz Zurrieq has now become a thriving habitat for marine life and offers divers a surreal experience of exploring a massive structure underwater.
Cirkewwa: This dive site is famed for its underwater arch and the P29 Patrol Boat wreck. It's a versatile site suitable for both beginners and experienced divers.
Xlendi Bay, Gozo: A serene bay turned dive spot, Xlendi Bay is perfect for beginners. It houses underwater caves, a sunken statue of Jesus, and teems with marine life, offering an experience that's both calm and captivating.
Xatt L-Ahmar: This site boasts of not one but three shipwrecks: MV Karwela, MV Cominoland, and MV Xlendi, all purposefully scuttled to form artificial reefs. With varying depths and structures, divers can choose their adventure based on their expertise.
HMS Stubborn: Dive deep into the pages of WWII history with this British submarine resting at a depth of 56 meters. Perfect for technical divers, exploring this relic is like walking through a time capsule, making it one of Malta's more challenging yet rewarding dives. The HMS Stubborn is located 3kms north east of Qawra Point.
Santa Maria Caves, Comino: A cluster of 10 interconnected caves, each with its own characteristics. While some caves are shallow and full of light, others descend into deeper, darker depths.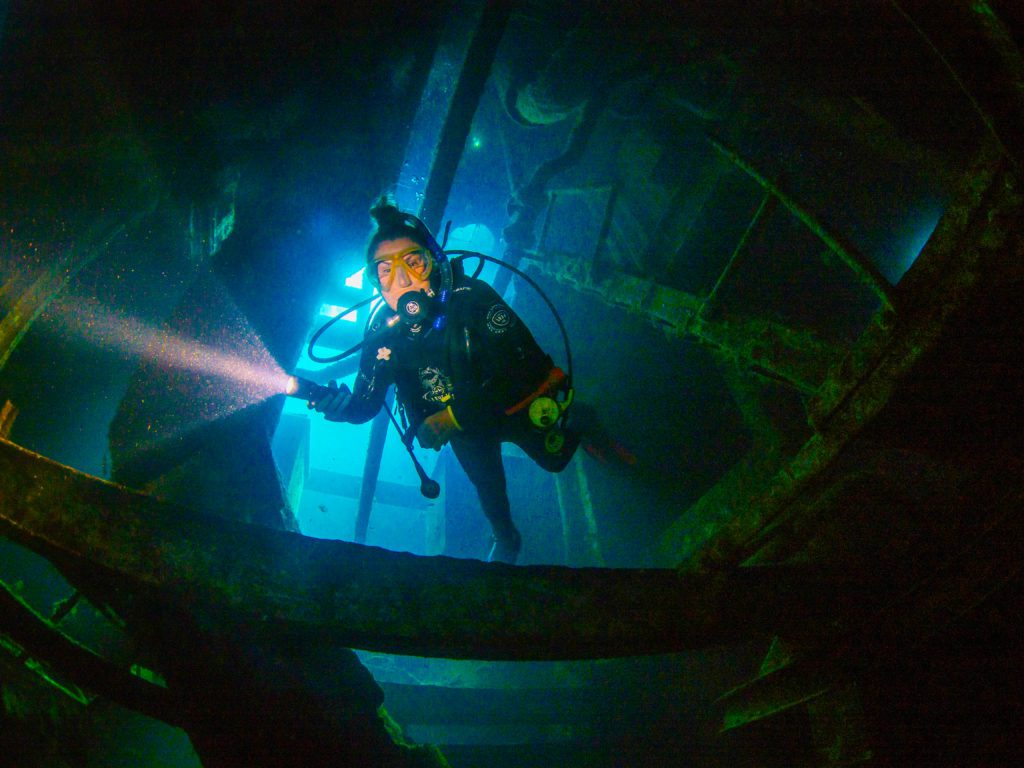 Hidden Treasures: Lesser-Known Dive Sites
Ghar Lapsi: This site offers a series of underwater caves and tunnels carved out by the sea over eons. It's a magical realm that promises a unique diving experience
Ta Cenc: Located off Gozo's southern coast, Ta Cenc is a mesmerizing dive spot characterized by its dramatic underwater cliffs plunging to over 30 meters. Divers are treated to a labyrinth of caves and swim-throughs, inhabited by a diverse array of marine life. The crystal-clear visibility and the site's topography make it a must-visit for underwater enthusiasts.
Lantern Point: Also known as Ras L-Irqieqa by locals, Lantern Point is a pinnacle dive site renowned for its large underwater arch and steep drop-offs that descend beyond 50 meters. The site is a haven for marine life, from colorful nudibranchs to schools of amberjacks. With its labyrinthine tunnels and mesmerizing blue waters, Lantern Point promises an unparalleled diving experience in Gozo.
Taking the Plunge: Scuba Diving for Beginners in Malta
Malta is not just a haven for seasoned divers; it's equally welcoming for those taking their first plunge. Here's why:
Structured Training: Malta has a plethora of diving schools offering PADI SSI and RAID courses, ensuring that beginners get the best and safest training.
Beginner-Friendly Sites: Places like Marsascala, Anchor Bay, Sliema and Xlendi Bay in Gozo offer calm and shallow waters, making them perfect for newbie divers.
Renting Equipment: No gear? No worries! Diving centres, including Ritualdive, provide top-notch rental equipment for those who don't own their set.
Try dives that come with no strings attached. Just kit up and dive in with your diving instructors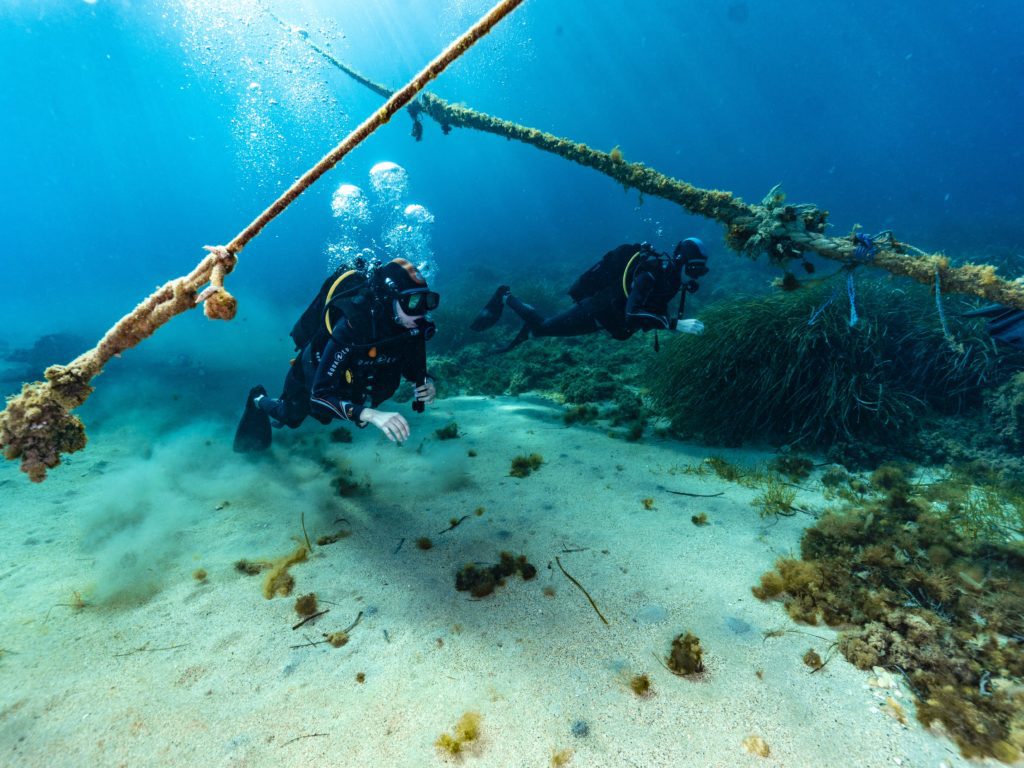 Diving Courses in Malta
With its exceptional diving spots, Malta has also emerged as a hub for world-class diving education. Several authorized training centres offer diving courses ranging from beginner levels to professional instructor courses. These include:
Open Water Course: The initial step for most diving enthusiasts. This foundational course introduces beginners to the magical underwater world.
Advanced Open Water: Here, divers enhance their skills, engage in deep dives up to 20m, and explore navigation.
Specialty Courses: From basic and advanced wreck diving to underwater photography and night & limited visibility, these courses cater to specific interests.
Rescue Diver and Dive Master Courses: These are for those who wish to make a career out of their passion for diving.
PRO Diving Courses in Malta
For those who have been bitten by the diving bug and wish to turn their passion into a profession, Malta offers a suite of pro-level courses:
Divemaster: This is the first step into professional diving. As a divemaster, you'll be equipped to assist with diving classes and guide certified divers. It's a role that commands responsibility, leadership, and in-depth knowledge of diving.
SSI Instructor Training Course: The Scuba Schools International (SSI) Instructor Training Course is a comprehensive program designed to mold divers into professional educators. On completion, divers are certified to teach a range of SSI courses and inspire a new generation of underwater enthusiasts.
Agency Crossovers: Recognizing the need for flexibility and adaptability in the diving world, the Crossover course is crafted for professionals from other training organizations. It allows them to transition and become certified SSI or RAID instructors, adding another feather to their professional cap.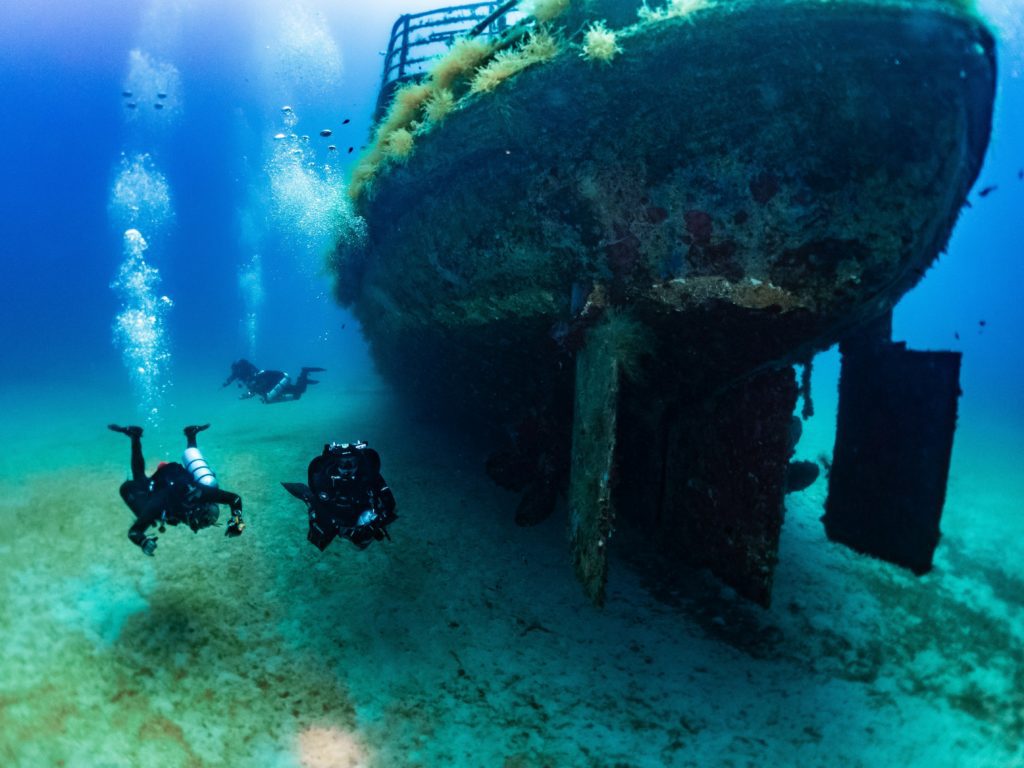 Diving Equipment Essentials for Malta's Waters
Diving in Malta necessitates a particular set of equipment to ensure both safety and enjoyment. Essential equipment includes:
Mask and Snorkel: Vital for clear vision and breathing on the water surface.
Fins: To provide the necessary propulsion underwater.
Dive Boots: Given Malta's rocky shores, dive boots are indispensable. They provide the comfort needed when walking across rough terrains and protect the feet during shore entries and exits.
Wetsuit: Depending on the season, you might need varying thicknesses, typically between 3mm to 5mm. Or 7mm or semi dry in winter
Buoyancy Control Device (BCD): Essential for maintaining neutral buoyancy underwater.
Regulator: This is your lifeline underwater, ensuring you breathe easily.
Dive Computer: Helps monitor depth, bottom time, and ascent rates.
While you can bring your equipment, Malta's diving centers, including Ritualdive, offer top-quality rental gear, ensuring convenience for travelers.
What Do You Expect To See: Malta's Underwater Inhabitants
The waters around Malta are a treasure trove of marine biodiversity:
Fish: Schools of barracudas, bream, and the elusive John Dory.
Mollusks: Expect to spot colorful nudibranchs and octopuses camouflaging amidst rocks.
Flora: Vibrant seagrasses, sponges, and soft corals.
Larger Fauna: Stingrays, amberjacks, and if lucky, even dolphins.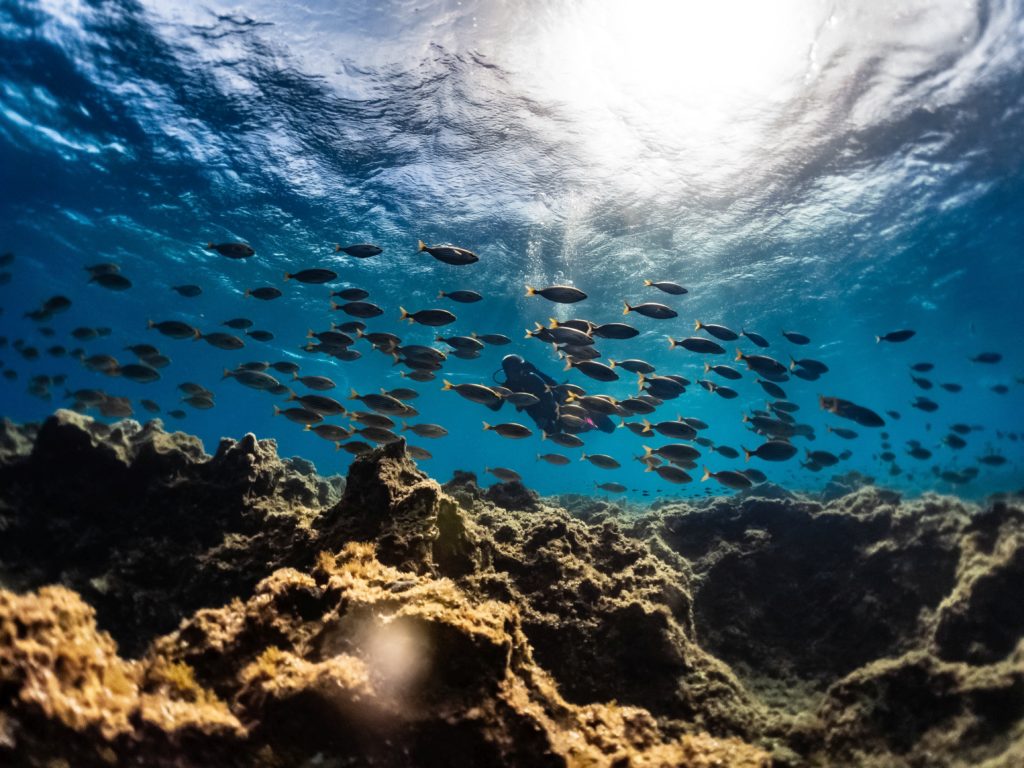 Safety First: Ensuring Secure Dives in Malta
Malta maintains a strong focus on diver safety. It's essential to:
Stay Within Your Training: Never attempt a dive that's beyond your certification level.
Check Equipment: Whether rented or owned, always check your gear before diving.
Stay Updated on Weather: Malta's waters are generally calm, but it's always good to be updated on weather forecasts.
Dive with a Buddy: Never dive alone. It's both safer and more fun with company.
The Best Time To Dive In Malta and Gozo
Malta and Gozo have one of the longest summers in Europe, from April to November and is known for their clear calm waters. Its average annual day temperature is about 22°C (72°C) and an average night temperature of about 15°C (59°C). Even in Winter, from December to February, the sea rarely drops below 15°C (59°C), but you can expect some rain and wind.

In April to May, air temperature is warmer but the sea is still a little cold. 

The warmest and driest months are June to August. September air is as warm as June with even warmer seas but you can expect rain.

As air temperatures drop and rain rises in October, deep sea temperature remains warm in its peak, but cools down slowly.

Malta's wind, rain and sunshine
The windiest part of the year is from October to May, with wind speeds of more than 12mph. The windiest month of the year in Malta & Gozo is December, with an average wind speed of 15.6mph. Wind speeds of between 13 to 24mph (20 to 38km/h) is too high for diving. So June to September is the best time to dive in Malta and Gozo.
As for rain, Malta has about 90 rainy days per year, from an average of about 0.5 days in July to an average of about 15 days in December.

Malta and Gozo enjoy about 300 days of sunshine per year, even on windier days there will be one side of the island protected from the winds, making it divable all year round.

Check out Malta and Gozo's weather here. You can also see other fun reasons for when it is the best time to visit Malta, here.

Which time of Day is best
Scuba diving and snorkeling is usually best between 10am in the morning and 2pm in the afternoon, as the sun is higher in the sky and the sun angle allows more light to penetrate the water.
Morning
Most morning conditions are usually without wind, waves and current – this means better visibility, easier dives and lower air consumption – so you can enjoy longer dives with more to see.
Afternoons
Snorkeling can be very good in the afternoons due to high sunshine but it will depend on the wind conditions. The winds pick up in the late morning and usually don't subside until late afternoon. Windier conditions mean lower visibility.
Night
During night diving, the diver can experience a different underwater environment because many sea creatures are nocturnal, but take precautions against safety hazards such as dive light failure.

Which Season is best
1. Winter (December – February)
Winter's are mild, between 10°C – 17°C (50°F – 63°F), so you won't be making any snowmen in Malta. It is the wettest season and most dive resorts are closed for the season.

Air temperature
Maximum average temperature: 19°C (66°F)
Minimum average temperature: 10°C (50°F)

Sea temperature
Temperature at the surface and at 30m depth are almost similar.

Maximum average temperature: 19°C (66°F)
Minimum average temperature: 15°C (59°F)

Rainfall
Average No. of rainy days: 10 – 17 days
Maximum rainfall: 110mm
Minimum rainfall: 45mm
2. Spring (March – May)
Spring temperature is as warm as autumn except the sea temperature is colder and there is less rain. May has the least rain compared to March and April.

Air temperature
Maximum average temperature: 26°C (79°F)
Minimum average temperature: 11°C (52°F)

Sea temperature
Surface
Maximum temperature: 21°C (70°F)
Minimum temperature: 15°C (59°F)

30m depth
Maximum temperature: 18°C (64°F)
Minimum temperature: 15°C (59°F)

Rainfall
Average No. of rainy days: 3 – 11 days per month
Maximum rainfall: 45mm
Minimum rainfall: 8mm
3. Summer (June – August)
Temperatures start to incline in June, with the warmest air and sea surface temperatures in July and August, with not much rain at all in July, but the rain does start to increase in August.
Air temperature
Maximum average temperature: 32°C (90°F)
Minimum average temperature: 18°C (64°F)

Sea temperature
Optimum conditions for snorkelers and swimmers are at the end of July and early August, when sea surface temperature is at its peak with little to no rain. Despite sea surface temperature remaining at a constant high in August, you can expect it to rain. Deeper waters get warmer in August.

Surface
Maximum average temperature: 26°C (79°F)
Minimum average temperature: 21°C (70°F)

30m depth
Maximum average temperature: 21°C (70°F)
Minimum average temperature: 18°C (64°F)
Rainfall
Average No. of rainy days: 0 – 8 days per month
Maximum rainfall: 20mm
Minimum rainfall: 0mm
4. Autumn (September – November)
Although air temperatures start dropping in September, sea depth up to 30m, is at its warmest. It does start to rain and you can expect more rainy days as it gets closer to winter.

Air temperature
Maximum average temperature: 31°C (88°F)
Minimum average temperature: 13°C (55 °F)

Sea temperature

Surface
Maximum temperature: 26°C (79 °F)
Minimum temperature: 20°C (68 °F)

30m depth
The best conditions for scuba divers are in September when sea levels up to a depth of about 30m, remain at a constant high throughout the entire month. Do look out for rainy days though.

Maximum temperature: 21°C (70°F)
Minimum temperature: 19°C (66°F)
Rainfall
Average No. of rainy days: 8 – 13 days per month
Maximum rainfall: 105mm
Minimum rainfall: 20mm

FAQs About Diving in Malta
How deep is the sea between Malta and Gozo?
The channel between Malta and Gozo reaches depths of around 30 meters.
How deep can you scuba dive in Malta?
While depths vary, divers can explore sites reaching up to 100 metres or more. However, it's essential to dive within the limits of your certification.
What wetsuit is best for diving in Malta?
In summer, a 3mm wetsuit is sufficient. In colder months, consider a 5mm or a semi-dry suit.
What are the diving conditions in Malta?
Malta offers excellent diving conditions with clear waters, gentle currents, and visibility often surpassing 30 meters.
How deep is the Blue Hole Malta?
The Blue Hole in Gozo goes down to approximately 16 meters with wall drop offs that can reach 60m
Is the sea water warm in Malta?
During summer, sea temperatures can rise to 25-28°C. In winter, it drops to around 15°C.
What level of diver do I need to be to Dive in Malta?
Malta has dive sites suitable for all levels, from beginners to experts. However, some advanced sites require specific certifications. Always check requirements before a dive.